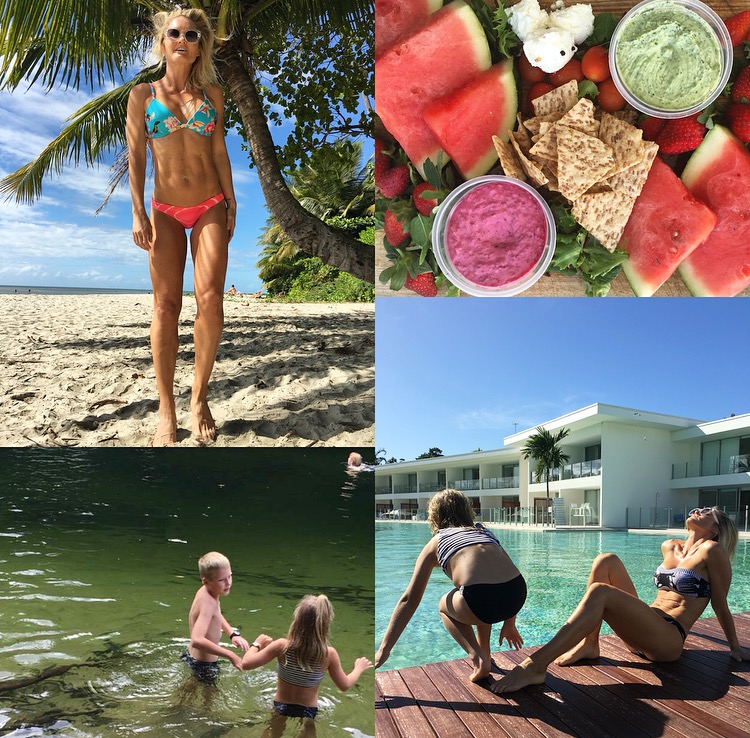 10 bliss holiday tips for the #fitfam ➡️
How to have an active family holiday without breaking the bank:
---
 Book an apartment with a kitchen: it is more expensive initially, however it will save you overall by eating at home (resort style) plus the bonus of healthy tummy options for all family members.
Book a lifestyle not just a apartment: look for space for kids to play, flat areas and fitness options.
 Grab groceries straight away upon arrival and make a plan for dinners, lunches and breakfast options and snack options.   (I actually plan this on the plane – only takes approx 15mins. This also will (kill those holiday hunger vibes) and create eye catching platters for enticing holiday food.
Get fresh food from local markets (most destinations have fruit markets along the way or on Thur, Fri, Sat, Sun) I purchased fruit, local dips and fresh bread for kids sandwiches)
Reuse and refill water bottles often and place in fridge all day. Water is required as you are on the move walking and its easy to forget to hydrate+ plus expensive buying bottled water everytime you head out)
Test out the resort and find a fun new fitness routine workout space: walk a new path every morning who knows what adventure you may find. (see blivewear YouTube Channel for ideas) Take a skipping ropes and goggles.
Pack lots of sportluxe | active wear ~easy to pack ~ it's versatile ~ non wrinkle
Encourage kids to get outside their comfort zone and reflect by writing a journal or drawing a picture book of daily events. Allowing kids to get outside their comfort zone with risk taking activities, rock hopping( great for stability, longer walks than normal and offer them challenge activities)
 Bring your smoothie stick blender rather than purchasing expensive smoothies, juices, milkshakes OR mojitos for when the sun goes down.
Try out the free yoga beach classes or find a palm tree to linger under Ensure you take time for yourself to sit and relax, reading or taking in the giggles of the kids and surrounding for yourself. Enjoy x
---
b.truth➡️
We all just headed to Port Douglas for a discover Queensland #fitfam holiday. I had not been their since I was 10 years old and what a beautiful place to holiday especially in our winter months. The break from the cold was totally full filing for all the family.
Much research was done to find a resort that catered for our needs, location, rooms, kitchen and lifestyle. 'The Pool' Resort ~Port Douglas was the winner for many reasons. The price, the lifestyle, the pool, the kitchen and location to amenities.
In our time in Nth Qld~ we discovered the stunning Daintree, palm trees along beaches, underwater reef swimming and crocodile hunting and as well as enjoying the many local delights of walking, running and mountain views. Plus the education value for the kids was outstanding: currently both learning about Australian culture and exploration > seeing it in its real state and reading every piece of information as we walked rainforests, listened to tour guides; it was so valuable for them both.
It's certainly a holiday well worth a look to break from your winter hibernation and all only a 2 hour flight from the Gold Coast.
Health and Happiness always,
b.
x