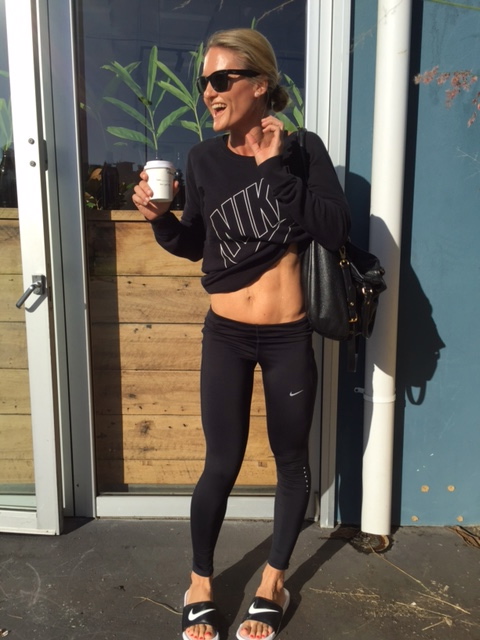 I have a personal style that incorporates quality products and easy styling that takes me effortlessly to each task I need to complete daily.
I believe your wardrobe should work easy for you and it should flow from piece to piece without worry of changing shoes or handbags.
---
b. simple fashion rules
– Make black your friend colour for life – it goes with everything and is easy to care instructions.
– Look for quality not quantity – I would rather spend $70 on a great shirt than spend $20 on two different average tops.
– Buy leather shoes always – sandals and high heels – they last and are more comfortable to walk in.
– Buy quality running shoes from brands that have a reputation for fitness – my obvious favourite is Nike @nike
– Mix fitness clothing with high fashion items
– Buy one high quality handbag that you LOVE!
– Sunglasses that are classic branding and seek  – Ray bans are my favourite!
b. is wearing -Nike jumper, Nike high tech tights, Nike slides, Marc Jacobs handbag and Ray Ban Wayfarers 
enjoy
b.
x