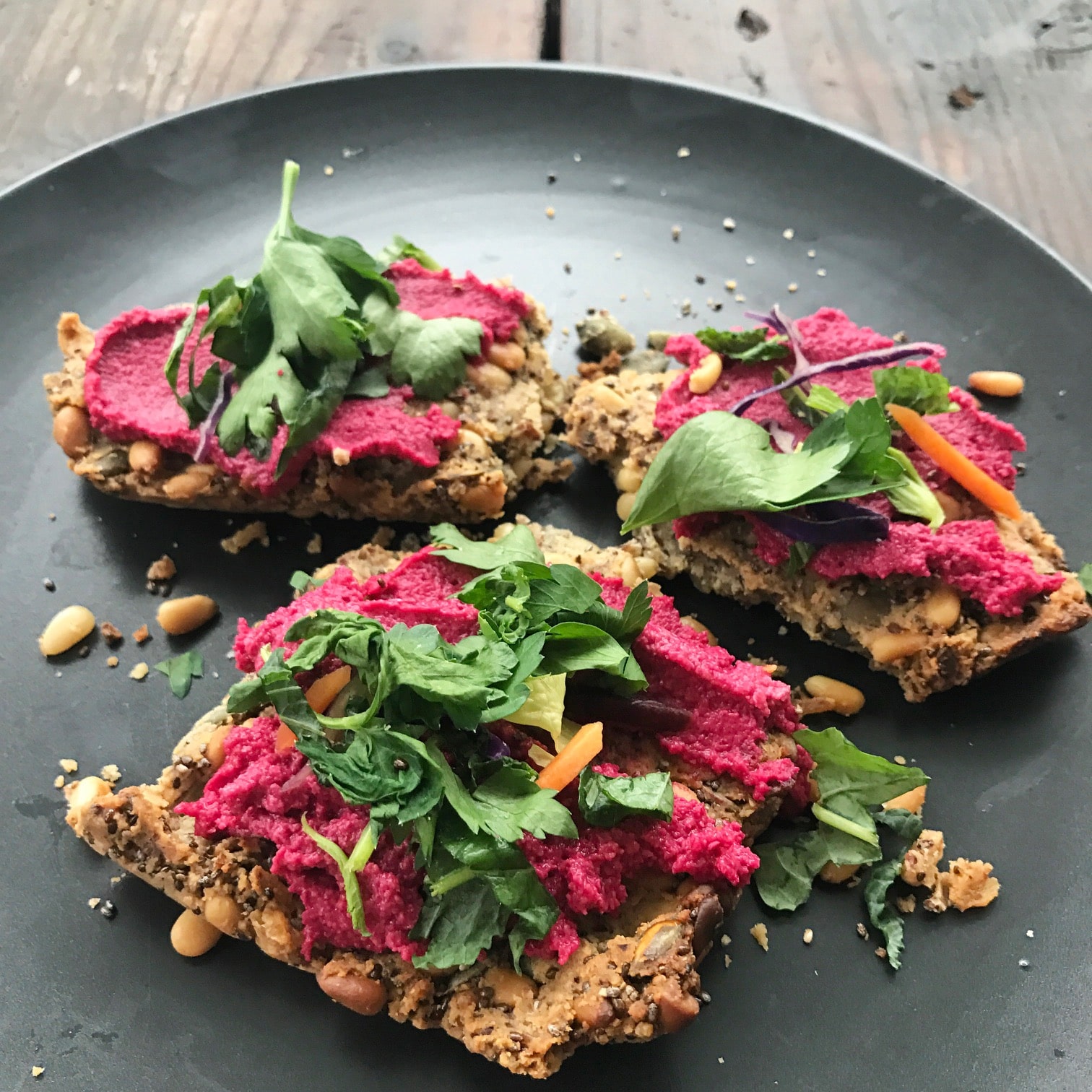 Add this crispy bread with a light crunch to any of your meals.  It helps you to feel fuller longer and it's gluten and dairy free! It is a nutritious snack homemade and completely clean of processed nasties.
We personally all love it topped with b.beetroot dip and greens or even peanut butter and banana for afternoon delight.  It can be dipped into soup or just eaten on it own.
---
b.seeded bread (gluten-free and dairy-free) 
Ingredients
2 cups of almond meal
½ cup L.S.A (linseed; sunflower; almond mix)
½ cup pumpkin seed
½ cup chia seed
½ cup pine nuts
½ tablespoon flaked sea salt
3 tablespoons of (garlic infused olive oil- savoury version) or plain olive oil.
2 tablespoons coconut oil
2 eggs
Method
Heat moderate oven and line baking tray with greaseproof paper.
Place all dry ingredients in to large bowl.
Whisk eggs and pour in mixture.
Add oils and salt.
Mix well until mixture is moist and can be pressed into lined baking tray.
Press mixture so it approx. 2 cm thick.
Put tray in oven for approx. 25 minutes; bread with bubble and then remove when evenly toasted brown.
Make cuts in bread while warm and then allow to cool as it crisps up.
Enjoy with soups; as crackers with dips or topped with any of your favourite toppings sweet or savoury.
Health and Happiness always,
b.
x
For more b.recipes to add to this crisp bread:
https://blivewear.com/b-beetroot-dip-spread/