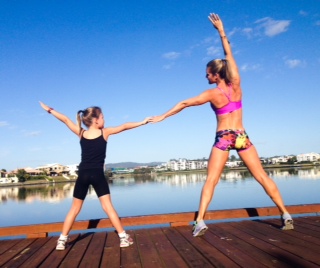 ABOUT b. to understand how it works for me
and
how it can work for you.
I work 5 days a week – teaching primary school students (I don't finish work at 3pm everyday… most days it is 4.30pm and teachers must be there by 8am)
I have two children 9 years and 7 years old with their own busy schedules – tennis, swimming, art class and being a kid.
I train every morning 5am until 5.30am with the kids and then train gym at some nights after dinner is done and kids are in bed.
I cook and prepare all the meals and clean my own house.
 You can have it all too!
It's all in the motivation you have for your optimal lifestyle.
---
How to create good life balance for you and your family is one of the hardest things to do. Everyone needs you in multitude of ways …Right?
SO how do I do it?
PLANNING
Is the solution!!
I plan everyday so much so that it is a total weekly routine.
I know things change because the
car won't start
the fridge stops working
smoothie gets spilt which seems to happen a lot lately
the dog did a wee in the house.
kids forget something for school
But it's all how we deal with these aspects that create life balance and flow. How can we turn each challenge into a positive?
I plan my whole week even writing it down on a chart that changes with cross out sections weekly and this allows the kids to see what is going on too.
Timetables – b. timetable contains
Weekly work hours
Training hours for everyone
Kids events
Dinner food plan
It is discussed on a Sunday night the next weeks plan and off the family goes into the week… organised.
 Food plan 
A food plan helps to create easy groceries shopping as you know the same dinner routine for weeks in a row which will help to establish the   food you will eat for dinner. It's ok to eat the same clean highly nutritious food on the same night weekly. In our house we actually eat the same dinner on the same nights during the week – For example b. chicken taco Monday – straight after swimming training is the fastest and healthiest option.
Making lunches is as simple as cooking extra vegetables the night before and storing them in a container after dinner –add the chicken or spinach the next morning and you are on your way.
Buying high quality food once – good fruit and vegetables last longer therefore you only need to hit the grocery shop once a week. Then its as simple as top ups that can be made at fruit and vegetable market stores.
---
The biggest thing I do that has made the most difference is
'the more I am moving, the more I am active, the better it is for my body'. b.
We need rest yes…. however I believe as a society rest has become a lot of sitting playing on our phones and lots of waiting to feel better and therefore less of getting our home life organized and bodies buzzing. Get up and get going….rather then looking at people doing things you can get your own body going and get the kids involved too. I personally rarely sit during the day and or night until bedtime – finding daily chores to do within the house, making my kids help and also doing active things with them as much as possible.
So how to balance family, fitness, food and fun
PLAN
ROUTINE is key
PREPARE
MOTIVATE YOURSELF
**this then motivates the kids**
To keep my energy levels high I eat very well all the time, I exercise everyday, I stay positive and enjoy even the tricky parts of life. Negativity drags you down – just be strong enough to ignore people with those traits.
p.s I did not always have it together… blog post to come on this – stay tuned.
enjoy.
b.
x