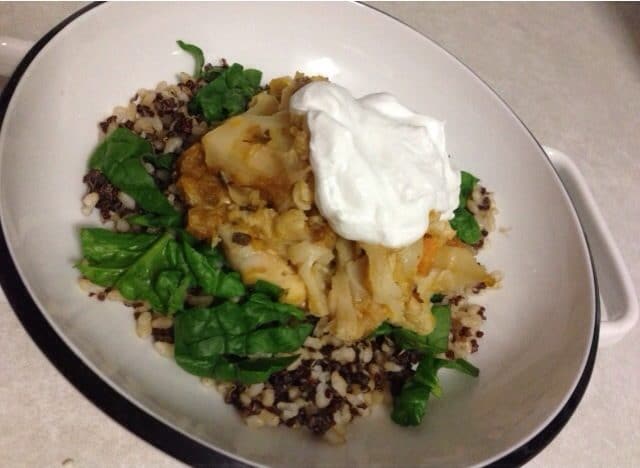 Add this one to your weekly must eat meal list!
This recipe is dairy free, clean food, time efficient and easy as… I make this for my family regularly. 
Sweet Pumpkin Fish Curry with Quinoa
Ingredients
3 pieces of white fish fillet
1 cup Kent pumpkin cut into cubes
1 cup cauliflower pieces
1  x teaspoon coconut sugar
1 cup coconut water
1  x teaspoon of curry powder
salt and pepper to taste
1  x Sunbeam rice packet of Quinoa and wild rice
1  x tablespoon CO YO coconut yogurt
1 x handful of spinach leaves
Method
1. Place the fish, pumpkin, cauliflower, coconut water, curry powder, coconut sugar and place into a covered oven dish.
2. Put in the oven at 180 degrees and bake for 30-40mins.
3. Place rice packet into the microwave and follow directions.
4. It's now as easy as layering it all together – Quinoa, spinach leaves, curry and coconut yogurt (as seen in image)
So easy!
enjoy.
b. x